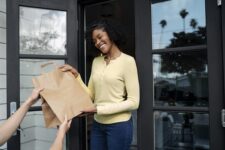 UnRestricted Unleashed: Unlocking Local Delivery Options for Your Packages!
When it comes to online shopping, convenience, and flexibility are key. UnRestricted understands the importance of providing customers with a seamless and personalized shopping experience. That's why we're constantly working towards including as many local delivery companies on our platform as possible. By remaining unbiased in our selection, we ensure that customers from every corner of the country can order their products with UnRestricted and have the freedom to choose their preferred local delivery method. In this blog, we'll explore how UnRestricted is revolutionizing the last-mile delivery process and empowering customers with the ability to tailor their delivery experience to their liking.
Expanding Local Delivery Options: UnRestricted is dedicated to incorporating a diverse range of local delivery companies into our platform. We believe that offering multiple options allows customers to select the delivery method that best suits their needs and preferences. Some of the local delivery companies currently available on UnRestricted include BPMS, Tropic Air, Maya, Speed It, Dropbox, and several other services. These companies enable timely and efficient delivery of packages and most of them are right to your doorstep.
Customize Your Delivery Experience: At UnRestricted, we put the power in your hands. Once your package arrives in Belize and clears customs, you have the freedom to choose your preferred local delivery company. We understand that every customer has unique requirements, and we want to ensure that you're completely satisfied with your delivery experience. Whether you prefer the reliability of BPMS, the efficiency of Tropic Air, or the convenience of another trusted local delivery service, the choice is yours.
Self-Pickup: In addition to the various local delivery methods, UnRestricted also offers the option of self-pickup. We understand that some customers may prefer to collect their packages in person at a designated location. With UnRestricted, you have the flexibility to select self-pickup as your preferred delivery method. This option allows you to conveniently retrieve your package at a time and place that suits your schedule.
Timely and Satisfying Deliveries: UnRestricted's integration of local delivery companies ensures that your packages are promptly delivered to your doorstep. We understand that timely delivery is crucial. Whether you're receiving essential items or a long-awaited purchase, our goal is to give you options to choose from so your products get to you with a sense of great satisfaction.