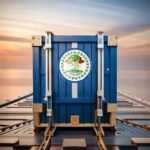 Which Countries do you ship to?
UnRestricted is proud to offer its pre-order service exclusively to customers in Belize. Our focus is on providing a seamless shopping experience for individuals residing in Belize, ensuring that they have access to a world of products from international online stores.
When it comes to shipping your packages, UnRestricted goes the extra mile. We understand that convenience and accessibility are key, which is why we provide you with various freighting methods to pick, choose and refuse based on your preferences. Ensuring your packages reach you wherever you are in Belize.

We walk in your shoes and understand that working with local carriers such as BPMS, Tropic Air, Maya, Speed It, Dropbox, and other delivery services would bring about the timely delivery of your products to your doorstep and a sense of great satisfaction.
Whether you're located in a bustling city or a remote town, you are enabled to choose from any local delivery method to have your package reach you efficiently and reliably. You can have your packages conveniently delivered right to your doorstep or opt for a pickup location that suits your preference.
At UnRestricted, our mission is to make international shopping accessible and hassle-free for our valued customers in Belize. We strive to provide you with a wide range of options for receiving your packages, ensuring that you have the flexibility to choose the most convenient and secure freighting and delivery method for your needs.
Please note that our focus is currently on serving customers in Belize, and we are continually assessing the demand for our services in other countries. As we grow and expand, we may extend our services to additional countries. Be sure to stay connected with us through our website and social media channels for any updates regarding service availability in your area.
UnRestricted is dedicated to providing an exceptional shopping experience, bringing the global marketplace closer to your doorstep. Shop with confidence, knowing that we are committed to freighting and delivering your packages swiftly and securely throughout Belize.